It's very easy and takes less than 2.2 minutes. Here is how to do it.
1. Go to the CAFE LA by clicking HERE
2. Look for LOG IN at the top of the forum index just under the LAFCPUG Logo
3. Click on LOG IN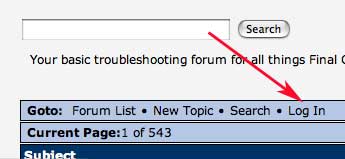 4. You are now looking at the USER LOG IN page. Click on "Not Registered? Click here to register now."

5. You are now looking at the REGISTRATION page. Fill in "Username," "Your Email," your password twice, Location, OSX Version you use and what Mac you use. When finished, click the SUBMIT button at bottom right corner of the window.
Note: We urge you to use your real name as your username. The culture of the forum is such that you are taken more seriously if you use your real name rather than a "handle."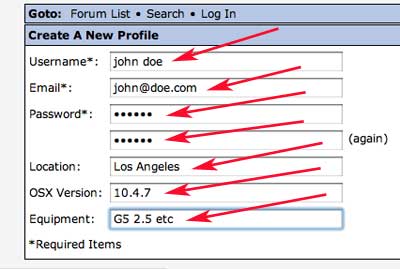 6. You are now looking at the "Thank you for registering" page. Simply click on the "Click here to Login" link.

7. WAIT! You're not done. Now go to your email program and activate your account. It should be there in about 2 minutes or less.
8. OK, you should now be looking at your email from "lafcpug." Follow instructions in the email by clicking the link provided in this email.
9. You are now at the Log In page. Now click the Submit button.

10. That's it. You're done