Product Review: Eye Cups for your Camcorder
March, 2002
A Review of Two Alternative Camera Eyecups
Product #1
· Ira Raider's i-cuff Viewfinder Camera Eyecup
Price:
- i-cuff DV: $39.95 (Fits viewfinders smaller than Canon XL1)
- i-cuff Pro: $65.00 (Fits Canon XL1/Aaton viewfinders to Sony/Ike/Panavision)
Company: i-cuff, Inc.
Voice: 800-793-3006
Web: www.i-cuff.com

Product #2
· VideoSmith's Ikkup Rubber Eyecup
Price: $29.95 (Fits Sony VX-1000, Canon GL1 and similar sizes)
Company: Videosmith, Inc.
Voice: 215-238-5070
Web: www.videosmith.com

By Jerry Jones
---

Summary: Both of these alternatives will be a significant improvement over the standard eyepiece that comes with many cameras. And both will help you shoot better pictures, with or without glasses. But of the two, the i-cuff provides the best overall solution.


In Search of A Better Camera Eyecup
Help For Camera Operators Shooting With or Without Glasses

As the person who has compiled several issues of 2-pop's "Best of the Boards," I've read literally hundreds of posts at 2-pop about frustrations with the viewfinder eyepiece that comes standard on many cameras. This frustration is especially prevalent among users of the smaller consumer/prosumer cameras. But, as I've learned, it is a frustration of many with the higher end cameras as well.

Since it was also a frustration I shared, I set out to find a solution, something that did not cost an arm and a leg. I've found two solutions, one that is an improvement, but still less than ideal. And one that is a home run.

Ira Raider's i-cuff Viewfinder Camera Eyecup

The Home Run Solution
Being someone who needs glasses to keep my world in focus, few things are more frustrating to me than trying to see what is going on through a camera viewfinder (especially with the pro-sumer/consumer cameras). The smallish viewfinders were simply not made for glasses. And even for those who don't wear glasses, the viewfinder on many cameras simply was not made for comfort. Functional maybe. But comfortable, no.

So it was a cause for celebration when the flip-out LCD cameras came out. They set me free, and made it much easier to see what I was shooting. However, as you know from experience, there are times when the LCD monitor is simply not very helpful, especially in bright sunlight.


ABOVE: The i-cuff on a small consumer DV camera

So along comes Ira Raider and his delightful little invention, the i-cuff (www.i-cuff.com). When you need a way to see what you're shooting through the viewfinder ­ regardless of the lighting or circumstances (and regardless of whether you wear glasses) ­ this little add-on is the best I've found.

The I-cuff was born out of many years of real-world experience. (Ira is an Emmy Award winning DP/Cameraman, so he knows just a wee bit about working with cameras.) "For years," says Raider, "It's either been wear a baseball cap, or have someone shield your shooting eye, or throw a large black cloth over the camera and yourself... all less than ideal ways to handle the situation."

The i-cuff solves this age-old problem encountered with those confining, uncomfortable standard eyecups.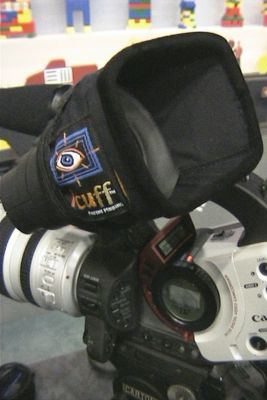 ABOVE: The i-cuff on a Canon XL-1


In addition to how it helps me see what I'm shooting, some of the things I most like about the i-cuff include:

- Works great with glasses. As I've already alluded to, with the i-cuff, there is no more shoving your glasses up against some small piece of rubber. This alone makes the i-cuff a must have in my camera bag.

- Feels great on my face. You already know how that small, cold, unnatural rubbery eyecup feels. With the i-cuff, get ready for a wonderful new experience in comfort. The i-cuff's contoured wraparound design features a thick, luxurious ultra-suede chamois, ("good for over 100,000 rubs," according to Raider) to cushion your face during those long shoots. It just feels good.

- Blocks out the light. Because of the contour and design of the i-cuff, it does a much more effective job of eliminating extraneous light from entering the viewfinder. When I'm using it, it enables me to focus more effectively on the picture in my viewfinder. In addition, it helps reduce fogging, absorbs sweat and protects the viewfinder from scratches and other abuse.

ABOVE: The i-cuff being used on a ARRI Camera/TS2
- Provides flexibility. You attach the i-cuff to the viewfinder using a Velcro tightening strap. As a result, it is very easy to adjust or reposition for a personalized fit. Or, when you are shooting overhead, under your arm, or down low you can rotate the i-cuff 45 degrees, allowing you to have more options to meet your shooting and viewing needs.
- Low maintenance. Made from waterproof, breathable, washable and lightweight hi-tech fabric, the i-cuff is easily cleaned as needed with soap, water and a drip-dry. And I've taken my i-cuff around the world, often ending up with it getting scrunched in some corner of my camera bag. But it is nearly indestructible, always ready for action.

- Price and value. Of all the "don't-leave-home-without-it" accessories that come along, this is one that I always keep with my camera. As one user from Texas mentioned, "In a world full of gadgets and tricks that make our productions better looking, more efficient, and most importantly: comfortable, the i-cuff stands out. If you're spending big bucks on lens shades, matte boxes and viewfinder hoods, why not spend a couple on your most important asset: you're eyes."

Some Experimenting May Be Required
I've actually found very little to complain about with the i-cuff. My only frustration is that sometimes I wish the fabric sides were stiffer, more rigid. When I push my face up against the I-cuff, it can sometimes have a tendency to move to the side, resulting in an inability to see the full view through my viewfinder. However, this is also generally due to my not having the i-cuff attached properly.

So, depending on your particular camera, some experimenting is required. You may find that pushing it further forward (or backward) will work best for you, allowing you to see the full viewfinder without any vignetting. Furthermore, by fitting the i-cuff just in front of the rubber eyecup, you may totally eliminate any vignetting problems. Just experiment to find the best fit foryour particular camera.

Two Versions Available
Regardless of the camera you use, there is an i-cuff designed to fit. The i-cuff DV ($39.95) is especially designed to fit all consumer/prosumer video and film cameras such as the Sony PD 150, Canon GL/XL1, Digital/Hi 8 Handycams, Sony's DCR-TRV230 or CCD TRV98 or even the retro Bolex H16 film camera!

The i-cuff PRO ($65), used by professional Award-Winning Directors of Photography and Camera people worldwide, is designed to work on most higher end cameras, including Sony, Ikegami, Hitachi, JVC, Panasonic and Canon. Many pro's have discovered the benefits of using the i-cuff, including productions for National Geographic, Professional Baseball, PBS, ABC Network News, Dateline NBC, 60 Minutes and 20/20.


VideoSmith's Ikkup Rubber Eyecup

A Second Alternative
VideoSmith (www.videosmith.com) makes available some great gear. I enjoy going to their web site and seeing some of the helpful accessories that they provide, many of which they create and manufacturer themselves. (You can also purchase Ira Raider's i-cuff at their site.) One of their products is called the Ikkup Rubber Eyecup ($29.95), intended primarily for camera's such as the Sony VX-1000 or Canon GL1. (It also works on the VX-2000/PD-150 but it tends to fit a bit loose on these newer cameras.)

It is clearly an improvement over the standard camera eyecup, adding comfort to shooting, while at the same time blocking extraneous light from the eyepiece. However, it does not provide the comfort or flexibility I found with the i-cuff.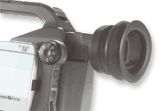 ABOVE: The Ikkup on a Canon GL-1


First, although it provides a larger eyepiece than what comes on the camera, it is still semi-hard rubber and thus, less user-friendly to the face (or to those who wear glasses).

Furthermore, the instructions suggest that you leave the Ikkup on your camera all the time. (It could potentially cause wear and tear damage if you were to repeatedly pull the Ikkup on and off your original viewfinder.) However, in the case of cameras such as the GL-1, you cannot fully close the eyepiece while the Ikkup is mounted, especially with a battery attached. I felt uncomfortable leaving my eyepiece extended ­ and more vulnerable to damage ­ when packing or during travel. (Or maybe it's just that I'm anal and always want to put things back where they belong!!)

All Things Considered . . .
As indicated at the beginning, both of these alternatives will be a significant improvement over the standard eyepiece that comes with many cameras. But after using them both, the i-cuff is the clear winner ­ for both those who need to wear glasses and those who don't.
---

Jerry Jones, who lives in the Colorado mountains, is owner of J. David Jones Productions. His video production work is primarily short documentaries for non-profits and humanitarian organizations in various parts of the world. When he can squeeze in the time, he is also writing a historical novel. Jerry has also served as the primary compiler/editor for 2-pop's Best of the Boards. jdavidjones@mindspring.com

Copyright © Jerry Jones, 2002

This article first appeared on 2-pop.com and is reprinted here with permission
---